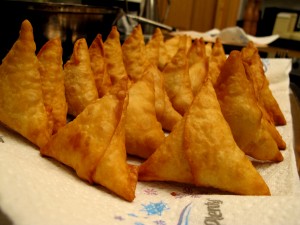 I made these samosa tonight. They look good but the picture doesn't reveal the lack of crispiness in the cases. I phoned my mum after I'd made them to find out why the cases turned out more chewy than crispy and she told me I was supposed to make the dough with some oil in it. I have used oil in samosa dough before but because I've been in a breadmaking mindset lately, tonight I made my samosa dough in the same way as bread dough i.e. without fat. Doh!
Other points to note: As with all potato-based food, the filling needs a reasonable amount of salt. The pastry also need salting and some lemon juice too. I tried cider vinegar as an alternative but it wasn't as good.
1 Feb 2013
I made samosa tonight using the recipe in the Indian Vegetarian Cooking book. I've found that you can cut down the oil in the dough by a sixth. Also, add the juice of half a lemon when doubling the book's recipe for tasty and crispy pastry. Also, instead of making neat parcels how Mum taught me, I just made quarter-circle shaped ones by simply folding over a semicircle in half and gluing and pinching together the edges. This makes them visually bigger and gives lovely crispy edges. They seem to cook quicker too, I suppose because there aren't any double layers of pastry. Next time I might try trying them with the lid on to see if that makes any difference.
3 Feb 2013
Now that I've perfected the pastry I have found that the samosa are best freshly fried. They don't ever get quite as crispy when reheated in the oven. I could part fry them but it would be best to fry them just before serving.